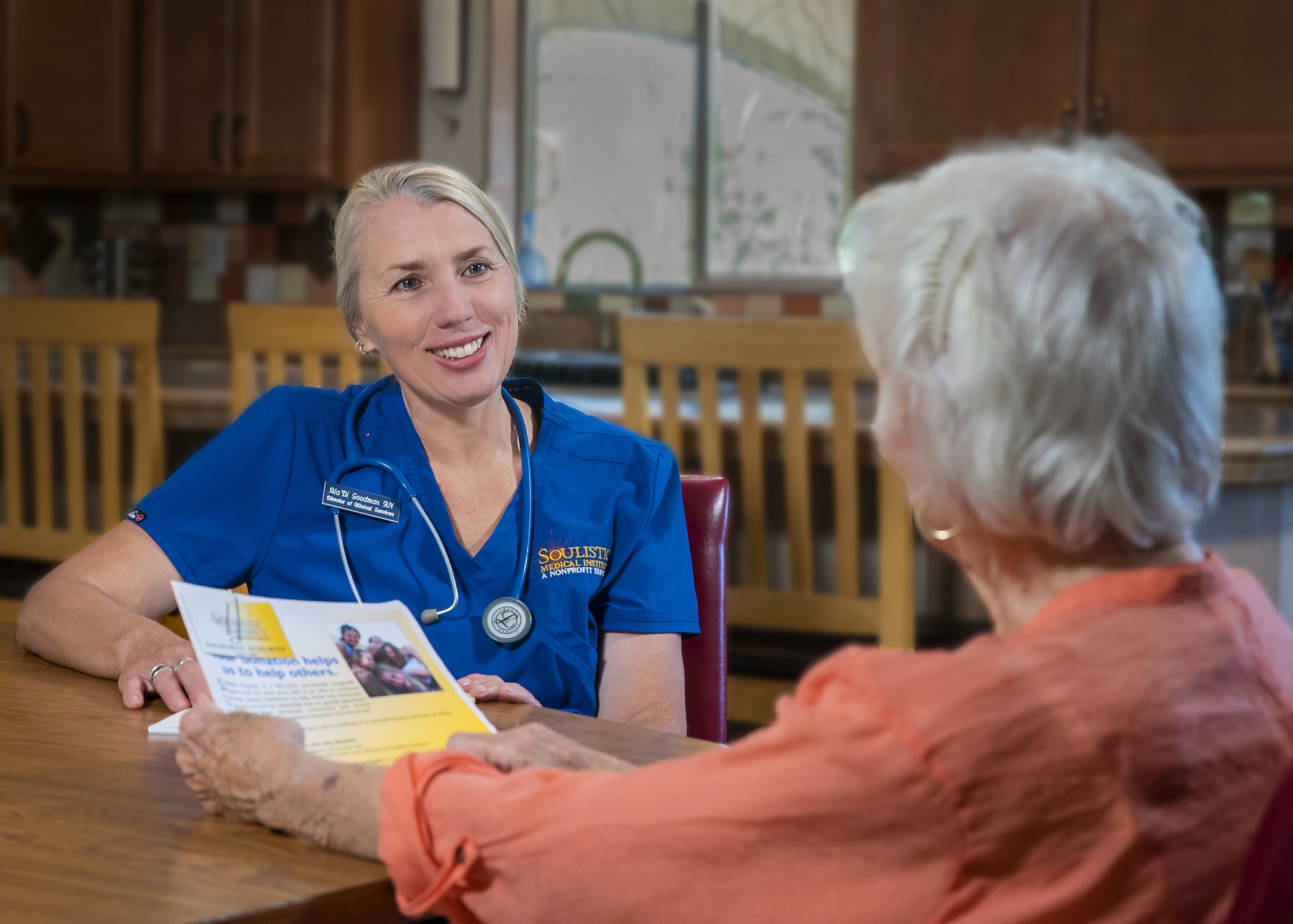 By Ala'Di Goodman, RN, Executive Director
Soulistic Hospice, A Non-Profit Service
When I mention the word 'hospice' some think, "That's not for me!" It might not be at this time; however, anyone can become an advocate for others who do need help - perhaps someone from your church, a neighbor, a friend or a relative. When one of our Registered Nurses does a no-cost assessment to evaluate if someone might be eligible for hospice services, some of what they assess includes a person's physical decline over the past year such as weight loss, falls, infections, increased fatigue and weakness, frequent visits to the doctor or hospital, and the amount of assistance and care they need.
Often it is a spouse or family member who cares for their loved one at home. Hospice care assists not only with physical needs, but also with the spiritual, financial, and emotional needs of both the patient and the family/caregiver. It also provides relief (respite care) for the caregiver and assists with bathing, personal care and light housecleaning.
Hospice care places an emphasis on keeping the patient in their own home if possible, and has a team that consists of nurses, physicians, social workers, and spiritual-care coordinators, to name a few. Hospice provides medical equipment such as hospital beds, wheelchairs, etc., as well as medications and incontinent supplies.
Hospice focuses on comfort care, which includes relief of pain and other uncomfortable symptoms. This choice is made when curative care Is no longer recommended because it is not adding to a person's quality of life.
Here are some common myths about hospice:
Myth #1: Hospice is only for the last days or weeks of life.
Truth: Research shows that families benefit the most when they have more time with hospice care than only days or weeks. Hospice care can be provided for up to 6 months and sometimes longer if a person still qualifies.
Myth #2: Hospice care is expensive.
Truth: Most people over 65 years old are entitled to the Medicare Hospice Benefit which covers hospice services 100%. Hospice care is also covered by AHCCCS/Medicaid and most private insurances. As a non-profit service, Soulistic Hospice provides quality hospice care regardless of ability to pay.

Myth #3: Hospice is a place; you have to leave your home.

Truth: Hospice care takes place wherever you call home - usually this is in the patient's private home but sometimes it is in an Adult Care Home, Assisted Living Facility or a Nursing Home.

Myth #4: Hospice can only help when family members are available to provide care.
Truth: We recognize that people with a life limiting illness may live alone, or with family members who are unable to provide care. Therefore, we will assist with the coordination of in-home care or help you to find an alternative safe location.

Myth #5: Hospice is only for people with Cancer.

Truth: Hospice provides care for people with many life-limiting illnesses such as Heart, Lung, Kidney or Liver disease, as well as chronic conditions such as Diabetes, Parkinson's disease, Dementia, Alzheimer's and Neuromuscular diseases. We specialize in comfort care for those who qualify with any condition, including the advanced aging process.
Myth #6: Hospice will hasten death.
Truth: Hospice neither quickens death nor prolongs life. Our focus is on comfort care and quality of life. Statistics show that those who receive hospice care at the right time actually live longer than those with a similar diagnosis who are not receiving hospice care.
For more information, please call Soulistic Hospice at (520) 398-2333 or email info@soulistichospice.org.