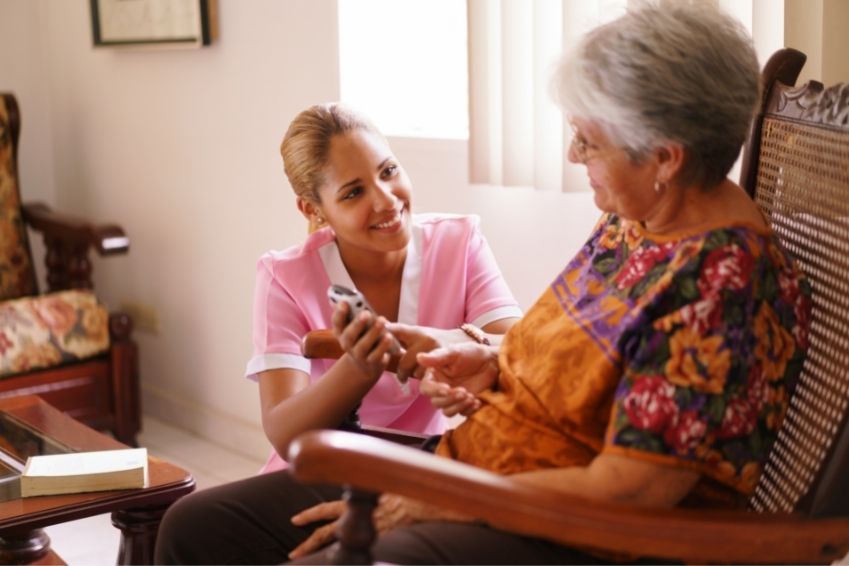 Spending your time at home while receiving treatment allows patients to rest in a familiar, well-loved space. Being among their own belongings provides comfort and ease that is difficult to achieve anywhere else.
For caregivers, entering the home of a loved one or patient is already intimate and, at times, challenging. However, it's a caregiver's responsibility to ensure that the home is also ready for every aspect of hospice treatment. Let's explore how caregivers can prepare a home for hospice care with safety and comfort in mind.
Make Room for Medical Equipment and Nurses
The first step is to prepare the home or space itself for medical equipment and guests like family members and nurses. While home-based care is all about maintaining comfort and avoiding drastic change, making room for new items and people is crucial.
Some families may choose to bring in a hospice-specialized bed that makes giving care and getting in and out of bed as easy and safe as possible. It's also important to ensure there's room for medical equipment like monitors or oxygen tanks that caregivers can access without a hassle. One last thing to consider is whether you or others have room to get around the space quickly in case of emergencies.
Increase Accessibility in the Kitchen
One place in the home we might not think about often is our kitchen. When preparing a home for hospice care, it's important to factor in the ease with which we normally grab snacks, get a drink, or prepare a quick meal on our own. Adding accessibility tools in the kitchen ensures that your patient can still maintain their dignity if they feel hungry and go grab a snack without asking.
Many kitchen gadgets exist to make chopping, stirring, and can-opening easier for people experiencing pain or mobility issues. Adjustable counters and baskets in the fridge to organize products make the kitchen experience easier as well.
Focus on Bathroom Safety
The bathroom is one of the most dangerous rooms in the house. Caregivers can increase the safety of a bathroom for the hospice care patient in a number of ways. Slip-resistant mats are critical for the shower to help prevent falls. A shower bar can also help give a patient something to grab on to as they enter, exit, and move around the shower. Shower chairs are also great options for patients who tire from standing too long.
Outside of the shower, it's important to make sure that using the toilet or counter space is comfortable. You want to ensure that the patient has room for any necessary medical equipment that may need in the bathroom. Raised toilet seats also make it easier to sit down and get up afterward with less pain.
Pick Up Any Rugs or Floor Clutter
Removing rugs and clutter from the floor is another important safety step. Anything that presents a potential tripping hazard is worth picking up and either storing away or moving elsewhere. It's a good idea to create uninterrupted pathways to give your patient access to all of their rooms with as little risk as possible.
Add Carpet Transitions Between Rooms
Carpet transitions are small changes that can have a big impact on a patient's ability to get around their home. These plastic strips make it easier to push a walker or wheelchair from one floor surface to the next without having to apply much force. Even for households that don't use mobility equipment, these transitions make it much easier to wheel in beds and medical machinery without having to lift.
Use Nightlights To Increase Nighttime Safety
Nightlights in each hallway help both you and the patient navigate the home without turning every light on. The ability to move around your house at night without waking everyone up is an important part of one's quality of life. Nighttime mobility options prevent the patient from feeling like a burden, or as if their presence interrupts their family's life each time they need something. Nightlights also mean that you, as a caregiver, can check in without turning the lights on and disorientating the patient in the middle of the night.
Give the Patient Control Over Their Space
It's important to keep in mind that while you want to make a space that's safe for your patient, you also want to focus on putting them at ease. If a patient feels they have no say over how furniture moves or where their belongings end up, they can experience stress and anxiety. This is especially true of patients who are spending hospice in their own homes. After many years, it's distressing to see the space change around them.
Look for ways to give your patient control over their space. You can let the patient decide where to hang pictures, where to place entertainment, and how to organize their daily area. You also want to make sure they have the ability to change the temperature of the house, turn lights on and off, and decide on volume for any TVs or electronics.
Create a Caregiver Station for Yourself
Finally, you may want to set aside a small area for yourself as a caregiver. A desk or table designated as your area gives you a guilt-free spot to handle any paperwork, jot down any notes and questions, or work online. Having this area helps you stay organized and keep the logistical aspects of caregiving away from the personal ones.
It's okay to still have questions about how caregivers can prepare a home for hospice care. After all, there are many factors to consider when it comes to creating a safe, warm environment and preserving the comforting nature of aging in place. At Soulistic Hospice, the home-based hospice care we offer involves virtual visits and an option to call us 24/7 so that as you don't have to make every decision on your own. Our team will gladly help you make the best possible choices and answer any questions you have, from medical questions to emotional support.