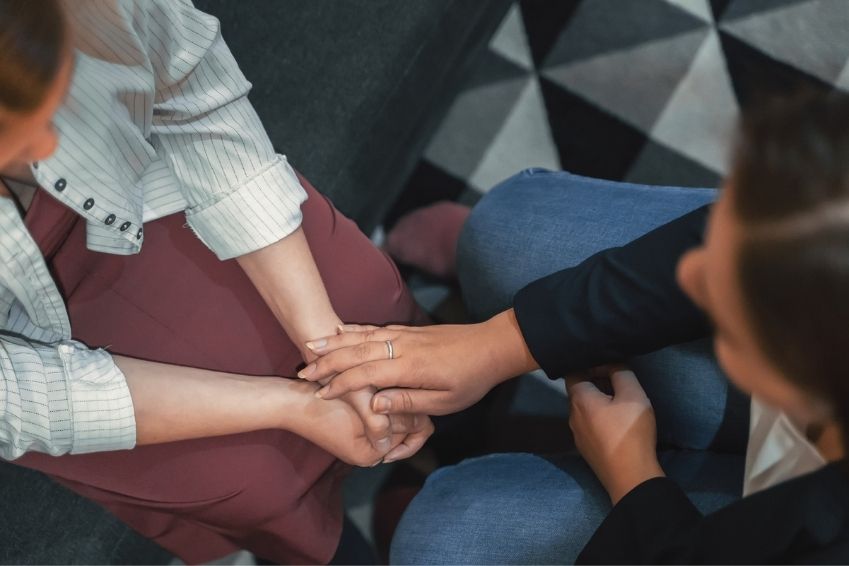 The loss of a loved one has a significant impact on your life and emotional state. It can be incredibly challenging to navigate the grieving process on your own. Here's how to mourn during uncertain times in life.
Take Your Time
The mourning and grieving process is a unique one, and there is no set time for how long it should take for each individual. Everyone deals with loss in a different way; don't feel like you need to rush yourself through your healing. Take your time. It's important to know that it's okay not to feel okay sometimes. When you lose a loved one, it will take time to process that and heal. Go at your own pace in whatever way you feel comfortable. It's perfectly normal to feel hopeless, broken, and depressed when you experience loss. Don't push yourself to feel okay if you're not ready for that yet. Allow yourself the necessary time and space to deal with your grief in a healthy way.
Talk About It
Communication can be helpful when working through grief and heavy emotions. Talking about how you feel is powerful and important. However, it can be counterproductive to push your feelings deep down inside and ignore them rather than openly talking about them. Finding some close companions you are comfortable sharing your feelings with can help ease the burden of losing a loved one. Most people in the world have experienced loss at one time or another and can relate to other people who have also gone through it. Talking about it with other people who understand can be very helpful and healing during the mourning process.
Spend Time With Loved Ones
It can be easy to isolate yourself during difficult times, but it can be detrimental to your mental and emotional health. Losing a person you were close to can leave you feeling empty and alone. Therefore, it's essential to spend time with your loved ones. It can help take your mind off things and improve your mood a bit when you are with friends and family who make you feel better. It's especially helpful to spend time with people who also know your loved one who passed. Then, you can focus on the positive and share all the happy memories you all have with that loved one. Celebrating the happy times and cherishing the amazing life your loved one lived is crucial for healing and letting go of grief, sadness, and anger.
Join a Support Group
As mentioned previously, talking about your emotions and sharing them with others can be hugely beneficial as you are mourning. Support groups are a perfect place to share your thoughts and feelings on losing your loved one. The purpose of support groups is to bring people together who can all relate to the same situation and share with each other to promote healing for all. In addition, hearing different perspectives about how people are dealing with their own mourning process can be very insightful and give people tips during their own grieving. It's also imperative to create a community of support, love, and positivity around yourself, and support groups do precisely that. These groups help individuals feel as though they are not alone and give them a solid foundation of companionship as they heal.
Get Plenty of Rest
A solid six to eight hours of sleep every night is necessary for anyone trying to function at an optimal level. Unfortunately, dealing with grief and loss can disrupt your regular sleeping schedule. Thinking about your loved one and how things could've been different can keep you up at night. Losing sleep will cause you to be overtired and will make it more difficult to get up and get through the next day.
Therefore, it's essential to get plenty of rest as you are mourning the loss of a loved one. Getting an appropriate amount of sleep every night will help you feel refreshed and alert in the morning and prepare you to take on the day. If you find that you are struggling to get any sleep at all, are experiencing insomnia, or are not getting high-quality sleep, it's a good idea to consult with a medical professional about potential options to help you sleep.
Follow a Schedule
It can be challenging to focus and get daily activities and tasks done when you are grieving. Therefore, following a schedule and creating a routine can be the perfect solution. Giving yourself a set schedule for the day allows you to strategically spend your time to ensure that all the necessary things get completed. You can set up your routine however you like in a way that is most beneficial for you. For example, you can wake up, have breakfast, do some light exercise, go to work, have lunch, come home, spend some time with the kids, make dinner, walk the dog, read a book, and then get ready for bed. Of course, that's just an example, but the idea is that you have a schedule that accounts for how you spend each hour of the day. Following this routine will increase your level of productivity and will help keep your mind focused throughout the day.
Go to Therapy
Not everyone has the necessary tools to deal with grief and loss on their own; sometimes you need the help of a professional. Therapy is a wonderful tool to help you sort through emotions and set up a plan for healthy healing practices. In addition, trained therapists can give you tips and tricks on healthy coping mechanisms to work through your feelings. Having a professional to open up to and bounce ideas off of can be incredibly valuable during the mourning process. Therapy is a safe, supportive, and private environment that gives you the space you need to discuss anything you feel necessary. The positive benefits of therapy are astounding and life-changing when utilized correctly.
Check In With Your Emotions
Numbness is all too common when dealing with the loss of a loved one. It's normal to be in shock and feel numb to your own pain from time to time. It's also normal to feel angry, sad, or defeated. Grief comes with a plethora of emotions that hit you at different times of the day. Sometimes grieving will feel like a rollercoaster. Sometimes you will feel just fine, and then out of nowhere, you feel like you got the wind knocked out of you, and you just want to cry and curl up into a ball. All of these feelings are completely normal. But it's important to consistently check in with your emotions throughout the day so you can remain aware of how you feel and stay in control. If you start to notice that you are feeling on edge or having any dangerous thoughts, it's crucial to reach out for help.
Now that you know how to mourn during uncertain times in life, you can begin implementing these strategies and techniques into your day-to-day routine. Soulistic Hospice offers emotional counseling and grief support groups to help individuals heal and cope during the mourning process.