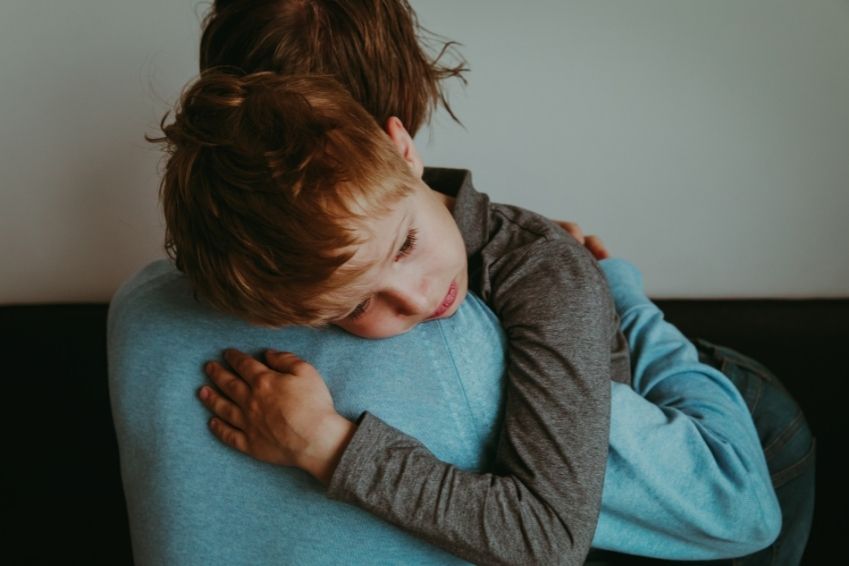 Loss is a natural part of every human experience, but it's difficult for children who haven't been through it before to comprehend such impactful, permanent change. It's the responsibility of parents, family members, and communities to teach children about loss before it happens so they can truly understand what's going on. Here are a handful of tips on how to prepare children for the loss of a loved one in a way that's gentle but honest.
Don't Assume What Your Child Knows
First, it's important to avoid assuming what your child does or doesn't understand about loss. Children encounter ideas of loss at school from friends, books and games, and even the classroom. Some children start this conversation with no understanding, while some bring with them misconceptions, concerns, or even a more solid grasp of mortality than you might expect.
Start the conversation by asking questions about what your child understands. To get a feel for what they know about loss, ask if it's something they've thought about before or what they think is going on with their ill loved one. Once your child describes their understanding, you'll have a foundation for moving the conversation forward in a way that isn't condescending or unfair.
Create a Space for Open Discussion
It's crucial to tell your child that they're allowed to be honest in this discussion. Try to start this conversation in a space they feel safe, such as the home living room or your backyard. If the exchange occurs over multiple days, always try to start the conversation in a safe space like this so your child understands where it's appropriate to ask follow-up questions.
Remind your child that any and all questions are welcome in the discussion. For younger children, mention that scary questions, or questions that don't feel right, are also worth asking. You're there to support them as they work through new concepts and tough questions, and nothing they ask should injure you.
Give Children a Way Out As Well
While it's necessary to create a safe space for discussion, it's also necessary to give your child easy outs. As important as the conversation of loss is for a family, forcing a child to sit through a conversation that is causing them distress can cause more harm than good. As long as you have time to have this discussion, make it clear that your child is welcome to take breaks from talking, write down their questions, or say they'd like to wait until tomorrow to keep talking about it.
If your child is consistently unwilling to continue the discussion after you start it, speak with them honestly about how important the discussion is. Remind them that what they're feeling now is expected, that your intention isn't to hurt them, and that this conversation hurts for you, too. Explaining why it matters to sit through that pain helps your child come to terms with the discussion itself.
Seek Examples They Already Understand
One of the best ways to prepare children for the loss of a loved one is to rely on examples they already understand. Whether from books, shows, movies, or real-life examples, touching on these examples of loss helps to create a foundation for what's happening to their loved one. These instances can also serve as fantastic examples on how surviving friends and family cope with their loved one's passing.
Be Ready To Say "I Don't Know"
One of the most difficult things to tell a child in this situation is also one of the most important things they need to hear. You may not have all the answers to the questions your child asks. You should admit to your child that you don't know or can't answer right now. This moment of vulnerability is a clear example to your child that it's okay to acknowledge this situation's challenges and that this process is confusing even for adults.
Begin Seeking Support and Resources
Support systems are precious to parents in difficult times. Sharing some of the weight with community resources like counseling services, school support systems, and other families gives you a chance to process your own feelings, too.
Relying on others also provides your child with unique perspectives on life and loss from people with experiences distant from your own. While this does mean you give up control over the narrative your child hears, they need to hear varied views. Speaking with others is an opportunity to hear that loss is normal and they shouldn't feel isolated by it.
Consider Letting Your Child Speak With Medical Professionals
While not always immediately accessible, parents struggling to communicate the full picture to their child may turn to medical professionals for help. Whether it's a visit with the family physician or a licensed therapist, medical professionals bring different language and a new authority to this challenging conversation. Your child may better understand the gravity of the discussion by speaking with a professional, or they might ask questions of these figures that they don't feel comfortable asking you.
Provide an Opportunity To Say Goodbye
Finally, do what you can to provide your child with a chance to say goodbye, even if they don't fully grasp what's happening when that time comes. Each step you take to prepare your child is important, but the opportunity to spend time with their loved one is just as valuable.
It's difficult to say how the interaction will or should go as your child says goodbye. They may try to ask seemingly inappropriate questions to staff, your family, and your loved one while there. Keep in mind that every curious question is an attempt to try and understand what's happening as well as a way to deal with their stress. Remember to stay present and do what you can to remain a reliable resource for them.
If your family is working through questions about holistic hospice care and palliative care, our team at Soulistic Hospice is honored to help. Along with our online knowledge center resources, we're always available to answer your questions and help you understand your family's options moving forward. Feel free to contact us at any time to learn more or request care services.