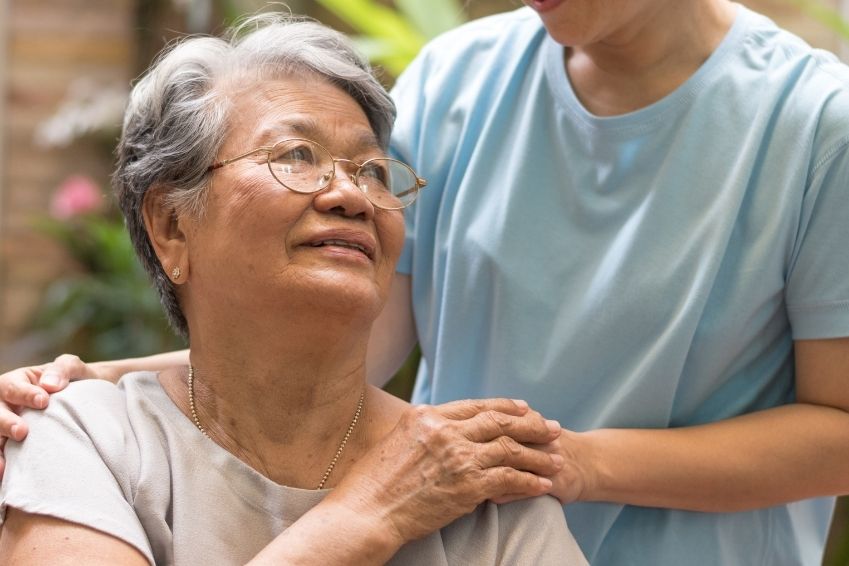 Everyone approaches the end of life differently. Some individuals are calm while others are nervous. Some people feel relief while others try to manage regreat. There is no right or wrong way to deal with the end of life for yourself or for a loved one, as everyone has different responses and needs. This is why many medical practices and caretakers are adopting a holistic approach to end-of-life care. What does this mean, and how does it apply to patient care? How does it relate specifically to end-of-life treatments such as palliative or hospice care? Why would you want to turn to holistic care instead of focusing solely on a treatment? Patients and their family members ask these and many more questions when presented with the option for holistic care. Knowing exactly what it means and why it matters can help you and your loved ones make the right decisions about treatment. Learn more with this guide on the importance of holistic care at the end of life.
What Is Holistic Care?
Simply put, holism is the idea that one should view various systems as a whole and interconnected unit rather than a collection of various parts. In terms of patient care, this means looking at each of a patient's needs as interwoven and dependent on each other. For example, a physical ailment can cause emotional stress or put a damper on one's social life. By treating the physical issue, you also treat the emotional and social issues. Holistic care strives to encompass four core areas of a patient's life, described as physical, emotional, social, and spiritual. By addressing problems and needs in each of these areas, holistic care improves the patient's overall quality of life.
Addressing Physical Needs
As with any medical treatment, physical needs are a crucial part of a holistic care approach. By addressing and either treating or managing physical symptoms, care providers can make a patient more comfortable and confident in their day-to-day life. Caring for physical needs might include taking medications, undergoing physical therapy, or managing diet and exercise. In fact, many holistic care providers take a multidisciplinary approach to physical needs that incorporates these and other methods. A patient might even undergo treatments like massage therapy or acupuncture, which can improve psychological as well as physical well-being.
Addressing Emotional Needs
Meeting emotional or psychological needs is a crucial part of maintaining overall health. Issues like depression, anxiety, and other mood disorders can worsen physical symptoms. Furthermore, if one's emotional needs aren't meant, it's harder to find the motivation to treat your physical needs. This is particularly true in end-of-life care, when patients may have a harder time seeing the point in continuing with therapy or treatment. Psychological issues don't necessarily mean diagnosable disorders, either. Problems like loneliness, despair, trouble sleeping, or difficulty concentrating all affect your mood and how you deal with daily tasks and events. Psychological issues are often detrimental to some of the body's basic processes, such as eating, sleeping, and even breathing. When care providers maintain a patient's psychological needs, they improve both emotional and physical comfort.
Addressing Social Needs
Humans are social creatures. We need community, companionship, and a feeling of belonging. That's why social needs are a key aspect of holistic care. If an illness—be it physical or psychological—prevents you from being around family, friends, and other loved ones, it can take a toll on your health. This applies to patients in palliative or hospice care as well. In fact, patients nearing the end of their life often experience even more social stress due to the grief and complications that revolve around end-of-life decisions. Even with a network of supportive loved ones, patients can still feel alone. Holistic care addresses a patient's social issues through open, compassionate communication, therapy, and other resources. Conversations involving death are often difficult, but they can also bring a sense of relief and closure for both patients and families. Services such as therapy, support groups, or even community activities can help fight off feelings of loneliness and isolation in patients.
Addressing Spiritual Needs
Many people consider spiritualism and religion to be the same thing. While the two are inseparable for many individuals, spiritual needs don't necessarily have anything to do with faith or religion. These needs involve ethical concerns or an attempt to find meaning and understanding in life. While spiritual issues are often harder to identify than physical, emotional, or social needs, the pain that stems from ignoring them can still have a major impact on a patient's life. Spiritual needs are highly specific to each individual. Some may seek forgiveness or closure from individuals in their life. Others may struggle with finding purpose as their life draws to a close. Many spiritual needs revolve around religion, which means a patient might benefit from talking to a minister, reading scripture, or attending worship services. When care providers help meet a patient's spiritual needs, the individual can move forward with more comfort and peace of mind.
The Importance of Holistic Care at the End of Life
End-of-life care, such as palliative or hospice services, strives to improve an individual's quality of life after a disease or condition becomes incurable. Essentially, these services provide comfort even when there is no treatment for the patient. It is a way to continue living life at the highest quality possible. That's why a holistic approach is essential to patients. When ending the disease or condition is no longer possible, caretakers can still manage a patient's life by treating other needs. Holistic care also makes the end-of-life process—including conversations about death, last wishes, and the grieving process—easier for both patients and their loved ones. Meeting the spiritual, social, and emotional needs of a patient gives them more confidence and closure at the end of their life. It opens opportunities for hard but necessary conversations. Perhaps most importantly, it can make the last weeks and months of an individual's life worth living.
Soulistic Hospice makes holistic end-of-life care a priority for every patient and their family. From an interdisciplinary medical team to emotional counseling to spiritual services, we take every aspect of a patient's life seriously, creating a more comfortable experience overall. Learn more about our compassionate and supportive services by exploring our care options today.