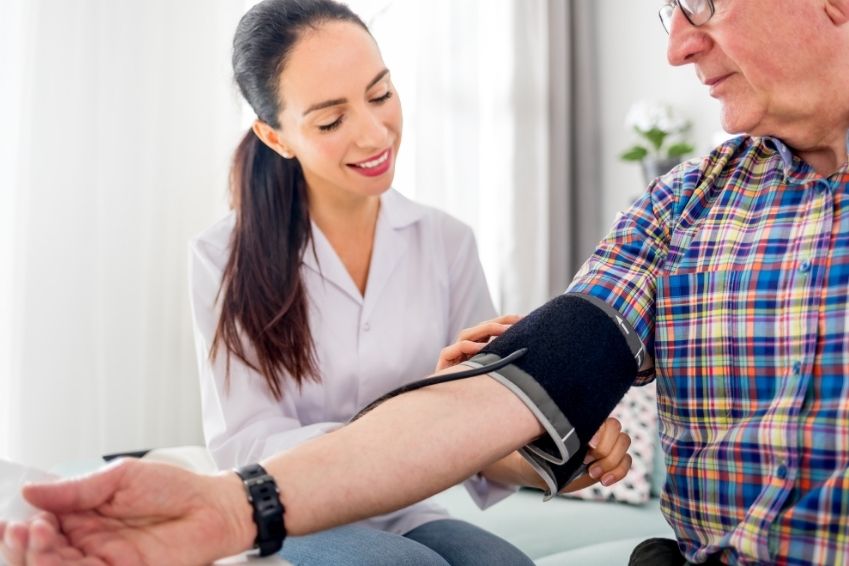 When the time comes to look for a hospice service for yourself or a loved one, you'll likely have a lot of questions. Choosing a hospice agency is a serious decision, and there are many things to consider before you pick the right one. Hospice care is about more than just handling medications and controlling symptoms. The in-home treatments and services allow a patient to spend their days in as much comfort as possible. A good hospice agency will also work to educate and support caregivers, helping them take better care of themselves and their loved ones. Learn more about how a hospice agency can help you and your loved ones with this guide on what services are provided with home hospice care.
Help From Primary Physician
Of course, medical services are the center of a hospice care plan. Many patients receive care from their primary physician even after they transitioned into hospice. Your regular, trusted physician can refer you to hospice care as well as work with the agency you choose once you're there. Primary physicians often coordinate with the hospice's medical director to create a personal plan for their patients. Your primary care physician may stay on to continue providing treatment during hospice. Meanwhile, the other at-home visits and treatments hospice offers reduce the amount of travel and appointments you have to go through to receive the care you need.
Nursing Services
While a primary physician and medical director work on your overall care plan, registered nurses and nurse practitioners are responsible for providing the regular medical care you need. The nursing staff usually visits one to three times a week, depending on your specific needs. These regular visits allow the hospice agency to provide treatment and supervise your overall condition, ensuring they can continue to meet patient needs. In addition to routine visits, your hospice agency will have a 24/7 on-call service so you can always contact a nurse whenever the need arises.
Managing Medications and Medical Equipment
One of the biggest benefits of hospice care is that you get the same quality treatments and medical care in the comfort of your own home. Hospice nurses help manage all medications related to your hospice diagnosis. This also includes any pain medications or other prescriptions that can help control or alleviate symptoms. In addition to managing medications, hospice staff also provide the medical equipment to run diagnostics and provide general health treatments. This equipment might include a hospital bed or wheelchair, oxygen, bandages, and more.
Telehealth Services
Hospice care is all about making treatment as convenient and accessible as possible. That's why so many hospice agencies are evolving their telehealth services to better benefit their patients. Telehealth provides virtual care and resources to both patients and their loved ones, making it easier than ever to get the help you need, no matter where you are or what time it is. Remote monitoring, virtual appointments, and online educational resources allow an agency to continue providing quality care even when they can't meet with a patient or their caregiver in person.
Personal Care
In addition to medical care, many of the services that are provided with home hospice care revolve around the daily needs of you or your loved one. Your hospice provider will create an individualized plan of personal care to address all the day-to-day things that contribute to a patient's quality of life. These services can include grocery shopping, light housekeeping, bathing and dressing a patient, and helping with other daily needs.
Holistic Physical and Emotional Support
Many hospice agencies focus on a holistic plan of care, meaning they provide for a patient's mental, emotional, and spiritual needs as well as their medical needs. There are many forms of therapy, treatment, and other activities that patients may experience during their hospice care. Some of these treatments, such as yoga, tai chi, or other stretches and workout routines, benefit and promote physical health. Others—including pet visits or art therapy—serve our patients emotionally. All of these various treatments and activities work to create a well-rounded plan of service that helps patients feel more physically and emotionally comfortable during their care.
Spiritual Counseling and Care
Many people turn to faith and spirituality at the end of life. This is why it's important for hospice agencies to provide spiritual counseling and care for patients and their loved ones. Spiritual services include having ministers of various faiths on staff. These individuals can meet with patients to listen, answer questions, and provide comfort about the road ahead. Respecting a patient's faith is a crucial part of providing respectful and effective care. These spiritual services can also provide a deeper sense of emotional comfort and strength for both patients and their caregivers.
Resources for Caregivers
Hospice patients will pick a close friend or family member to be their primary caregiver during treatment. This primary caregiver works with the hospice agency to create a care plan, meet their loved one's needs, and make decisions throughout the process—especially once their loved one is physically or mentally unable to do so. The primary caregiver plays a crucial role in creating and administering a plan of care that is personal, effective, and comfortable. However, this is a huge responsibility for someone to take on. That's why hospice agencies also provide resources for patients' caregivers. This can include training and education on medications or other treatment plans for their loved ones. Hospice providers will also strive to meet the emotional needs of caregivers by offering emotional counseling, bereavement therapy, and respite care to avoid burnout.
End-of-Life Planning
A terminal illness brings up many serious questions that you and your loved ones might not be able to talk about. However, it's important to address end-of-life concerns such as advanced directives or funeral arrangements. A hospice provider can help prepare both patients and their loved ones for these kinds of conversations. Additionally, your hospice agency can record these final wishes and carry them out when the time comes. End-of-life planning services ensure that a patient's wishes and concerns are respected throughout and after their care.
You don't have to wait for a doctor's referral to start looking at hospice options. Find the best in-home hospice care in Tucson and the surrounding areas by visiting Soulistic Hospice today.