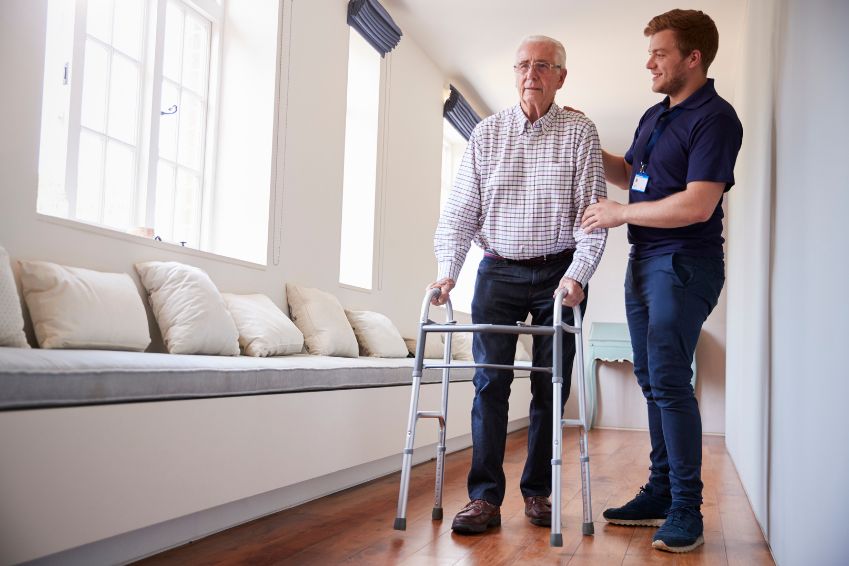 The move into hospice care is a big life transition for patients and their families. After a terminal diagnosis, hospice care can be one of the best options for people when treatments no longer prove effective.
However, it can be challenging for some individuals to make this transition into a different kind of care. But with the right tips and information, you can provide assurance and empathy for a loved one experiencing this change. Understanding the hospice process ensures you can support your loved one during their hospice care experience. Here's what to expect as your loved one begins hospice care.
What Is Hospice Care?
The first thing you'll need to understand is what hospice care actually is. Overall, hospice is a specialized kind of care for individuals experiencing a life-limiting terminal illness with a prognosis of six months or less to live. The goal of hospice is to focus on a patient's quality of life rather than intensive treatment. Many people will choose to receive hospice care when their illness is so advanced that regular treatments no longer help or when they would like to focus on relief. Therefore, hospice treatment plans prioritize symptom management and a patient's emotional, physical, and spiritual needs as they near end-of-life.
Different Types of Hospice Care
The type of treatment your loved one receives may vary depending on the type of hospice care your loved one requires. Therefore, it's helpful to know the different types of hospice care so that you know what to expect from each one.
There are four major levels of hospice that provide various levels of care and treatment to individuals with terminal illnesses or diseases. Some hospice care providers will visit your loved one at their home for more minimal care, while other hospice facilities offer inpatient treatment plans that care for your loved one 24/7. It's up to you and your loved one to determine which type of care is most suitable at this time, and you can always shift to a more intensive treatment plan if necessary. Continue reading to learn more about each specific type of care.
Routine Home Care
The first type of hospice is routine home care. Your loved one would receive this level of hospice care in the comfort of their own home. Professional hospice caregivers would come to your loved one's home at a scheduled time to provide them with the needed symptom management and physical, emotional, and spiritual care. These caregivers can also assist your loved one with daily chores, activities, and other tasks such as grooming, bathing, dressing, and preparing meals. Routine home care is intermittent based on a particular individual's needs. This level of care is especially popular among individuals who do not have the desire to live in a hospice facility full-time.
Continuous Home Care
Continuous home care is the next level of hospice care. While routine home care is intermittent and used as needed, continuous home care occurs on a more consistent basis. For example, if your loved one receives continuous home care, a hospice caregiver will offer round-the-clock care at their homes.
This type of care is a good option if your loved one is experiencing a medical crisis or has increasing symptoms that need more intensive treatment and care. Typically, your loved one would receive this care from a hospice nurse or caregiver for at least eight hours a day. Family members can often take on the role of caregiver and provide much-needed comfort and care with training and assistance from the hospice team.
Respite Care
Another level of hospice is respite care. Hospice providers offer this particular type of care on a short-term basis. The idea of respite care is that it is a temporary period of inpatient hospice care to give family caregivers a break and help them avoid burnout. Respite care is not long-term and should not be confused with inpatient hospice care. Medicare benefits will pay for up to five days of respite care at a medicare-approved hospice facility. Your loved one can receive respite care more than once. If you are looking for a 24-hour hospice care facility, you should instead consider inpatient care.
Inpatient Care
The highest level of hospice care is inpatient care. This type of care is when your loved one enters a 24-hour hospice facility to receive round-the-clock care and treatment. Certain hospitals and nursing homes may offer inpatient care. Medical professionals, doctors, and nurses will develop a personalized treatment plan for your loved one based on their specific needs.
It's a good idea to consider this level of hospice care if your loved one is experiencing uncontrollable symptoms, seizures, intense pain, nausea, vomiting, or other unmanageable symptoms requiring close monitoring and professional expertise. If you cannot provide this level of care to your loved one at home, it may be an appropriate time to consider an inpatient hospice care facility. Inpatient care is often temporary, whether to help a patient during their last phase of life or address a period of severe symptoms requiring extensive pain management.
End-of-Life Planning
Understanding the end-of-life planning process as your loved one begins hospice care is also essential. Preparing for end-of-life is one of the most important steps to take during an advanced terminal illness. This process helps you to make crucial legal and medical decisions and arrange your loved one's affairs in order as they near the end of their life.
Many hospice care providers and facilities offer end-of-life planning and assistance to help patients and families along the way. It's necessary to start thinking about wills, testaments, trusts, beneficiaries, power of attorney, DNRs, and other healthcare and financial decisions. You want to tie all loose strings before your loved one's passing so that you can best meet their final wishes and avoid any confusion or additional family stress.
Making Your Loved One Comfortable
Overall, the goal of all types of hospice care is to make your loved one as comfortable as possible during their final days. You want to ensure that hospice providers meet your loved one's mental, emotional, physical, and spiritual needs. Do everything in your power to make this transition into hospice care easy by providing the necessary support for your loved one during this time. You also want to advocate for your loved one by speaking with medical professionals, hospice providers, and caregivers. Advocate for their needs by finding the answers and solutions to any issues that may arise throughout the process.
Now that you have an idea of what to expect as your loved one transitions into hospice, you can work together to facilitate this change in care. Soulistic Hospice has facilities that provide high-quality care, including spiritual care in Arizona, that will make your loved one comfortable during this period.