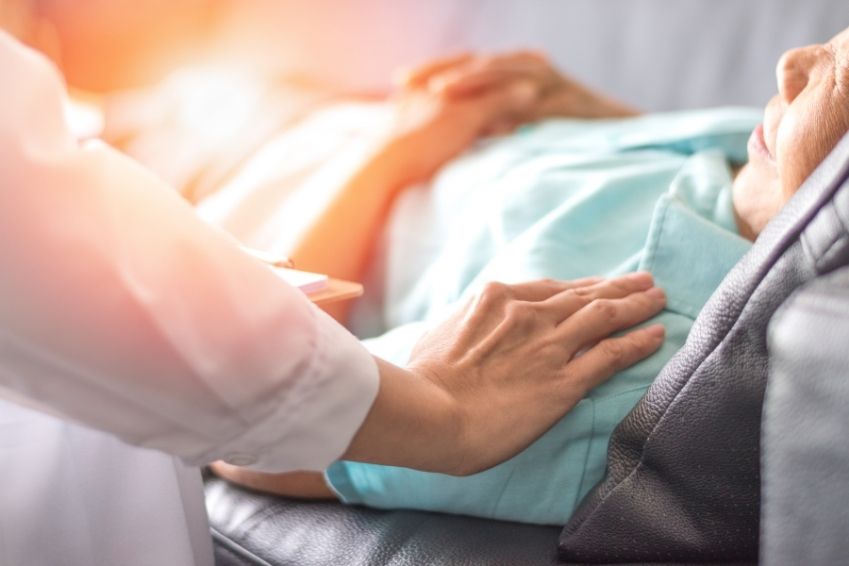 Understanding what to expect during the final stages of multiple sclerosis, including what "final stages" means and what options are available to make the final stages as comfortable as possible, allows families to create a plan and act with confidence. Let's first discuss what multiple sclerosis is and how it affects daily life so that we can better see how it affects the daily life of someone experiencing the disease.
What Is Multiple Sclerosis (MS)?
Unfortunately, multiple sclerosis (MS) is a disease we still do not have all the answers for. According to a study funded by the National MS Society, nearly 1 million people over the age of 18 in the United States currently live with MS. While there is no known singular cause or cure for the disease, a variety of treatments have been discovered that alleviate symptoms and make it easier to live with.
Multiple sclerosis affects the central nervous system, causing the body's immune system to target the brain, spinal cord, and nerves. These areas become inflamed and the damage causes scarring on the tissue.
Symptoms of Multiple Sclerosis
The symptoms of MS manifest differently for everyone, as some experience a cycle of symptoms where they may go years without feeling the effects of MS, and others note a steadily worsening progression in the disease. The following are some of the most common symptoms of MS:
Fatigue
Numbness or tingling in the limbs
Dizziness
Mobility issues
Fuzzy memory
Vision issues
All of these symptoms are indicative of the central nervous system being harmed, making it more difficult to get through day-to-day experiences. These symptoms are also incredibly distressing at times for the people experiencing them, as your body not doing what you want it to or what it was previously capable of feels like a loss of agency.
The Progression of MS
There are four typical courses or phenotypes for those living with MS. While the first, Clinically Isolated Syndrome (CIS) only increases the risk of future MS episodes, Relapsing-Remitting MS (RRMS) often progresses into the two latter progressive forms. During RRMS, you or your loved one's MS may stabilize, then worsen, in a cyclical fashion. Episodes of attacks involving the usual MS symptoms are followed by lessened symptoms or total remission. RRMS is the most common form of multiple sclerosis experienced today, affecting 85% of those with the diagnosis.
If the episodes become more consistent and remission periods less frequent, the toll the disease takes on the body begins to have lasting effects. Issues like dizziness, memory loss, and trouble communicating manifest more during the course following RRMS known as Secondary Progressive MS, or SPMS.
The final course of progression is Primary Progressive MS, or PPMS. Unlike SPMS, this course affects 15% of people living with MS and excludes any cycle of relapse and remission. Instead, the disease progresses and gradually begins affecting day-to-day activities.
It's important to keep in mind that progression pace and symptoms will look different for each person with multiple sclerosis. Part of what makes the disease hardest for loved ones is its unpredictability.
Maintaining Quality of Life With MS
As there is no single cure for multiple sclerosis, maintaining quality of life is the goal of loved ones and healthcare professionals alike. MS affects many aspects of daily life, from getting through the workday effectively to navigating the house on your own. The fatigue, muscle stiffness, and trouble concentrating all work together to make seemingly small tasks appear more like mountains, a fact that lights the way for symptoms of depression as well.
Of course, disability does not have to mean hopelessness. With the proper support system, those with MS can find ways to still make the most of life and enjoy time with friends and family. Even years after diagnosis, many continue to hold fulfilling jobs and hobbies while living with MS. When progression in the disease occurs, some adjustments will need to be made, but there are several resources available to loved ones, caregivers, and those with MS alike to maintain an enjoyable and comfortable lifestyle.
How Hospice Can Help
Hospice care is one of the most impactful resources for those dealing with the effects of late-stage multiple sclerosis. With dedicated care teams, reliable physicians, and support systems for everyone involved, hospice care teams approach you or your loved one's needs with understanding and genuine care. Not only does hospice provide vital pain relief options to create a more comfortable experience for those with symptoms, but many facilities also offer counseling services to help both those with MS and their families with the emotional toll MS takes.
Home Adaptations
Alongside pain, fatigue is one of the biggest factors that affect the quality of life for those living with MS. Rearranging the home to expend the least energy possible when taking part in day-to-day activities is essential to avoiding pain and frustration in the comfort of the home. Grab bars and lowered cabinets make must-do tasks like showering and cooking easier, while extended reach gardening tools or desks that accommodate wheelchairs allow people living with MS to continue to enjoy hobbies at home.
Caregivers and Representation
A primary caregiver fills a vital role for those with progressive multiple sclerosis. Having a trusted spouse or family member there to not only help you through the day but to assist in moments of memory lapse and decision-making provides true comfort to those living with MS. It's important to begin having discussions about legal matters and wishes early in the process, as neurological diseases may limit the capacity to do so in the future.
Having an honest discussion regarding creating a will or death plan with loved ones is a painful but rewarding experience that gives those with MS peace of mind that their wishes will be followed as the disease progresses.
Palliative Care
MS doesn't always progress on a set or even predictable schedule. Hospice care serves patients nearing the end of their lives, where palliative care extends the timetable and allows for pain relief, comfort care, and assistance for those struggling to achieve great quality of life on their own. If a physician is unable to give a specific prognosis but you or your loved one need assistance now, palliative care can help.
For residents in Southern Arizona seeking options to improve life for a loved one with multiple sclerosis, Soulistic Hospice is here to help. As a locally owned non-profit, our team is devoted to providing holistic care hospice and palliative care options for those living with late-stage MS. We hope that this brief guide on what to expect during the final stages of multiple sclerosis has provides not just clarity, but also comfort in what we know to be a difficult time.