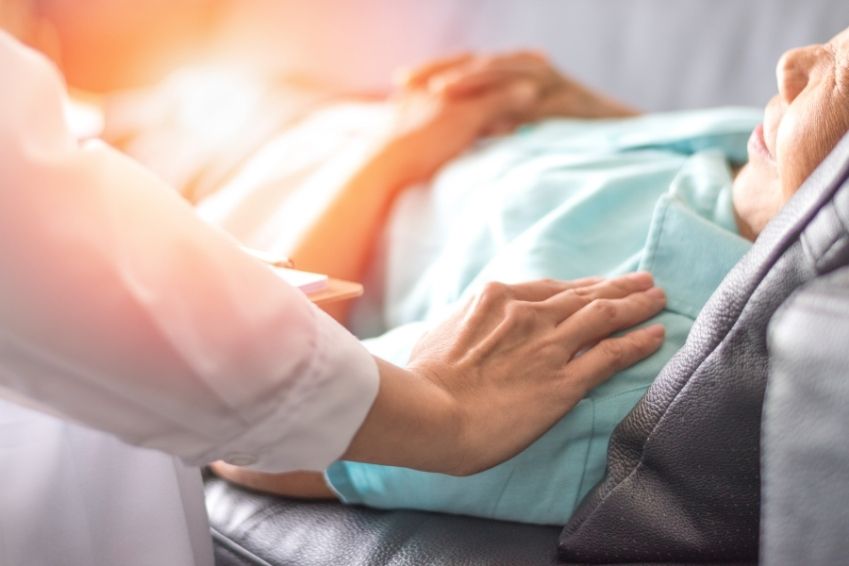 Deciding what type of hospice care is right for your loved one can seem intimidating. After weeks, months, or longer of serving the role as primary caregiver, you know your loved one's needs better than anyone else. This guide will help you understand the different levels of care available and help you coordinate with your loved one's physicians and a hospice care team to decide what's best.
Signs That You Should Consider Hospice Care
We know that deciding to look into hospice care is difficult. As a caregiver or loved one beginning this research, you are taking steps to ensure the comfort and quality of life for someone, and that is an incredible gift to give, no matter how hard.
Some signs that hospice care may be the next step for your loved one is if you are feeling overwhelmed trying to help them through day-to-day functions and seeing little improvement in their condition over time. Regular infections and hospital visits are taxing on you both. So, choosing the appropriate hospice care can give you and your family the necessary resources and support to make life more enjoyable for everyone through this process.
Levels of Hospice Care Available
Once you've chosen to begin hospice care, you and your loved ones will need to decide what level of hospice care fits your needs and availability. Many hospice care recipients stay in the comfort of their homes while receiving care from visiting nurses, physicians, and counselors. Others may benefit more from the resources available in a facility, including the community there. Let's discuss the four levels of care offered by most hospice care teams.
Routine Home Care
Routine Home Care, or RHC, is the most independent level of care available to families. This is for families who have already hired a caretaker or have structured their lives around fulfilling the caretaker role. RHC includes regular nurse visits to check in on your loved one and answer questions you may have. They also provide physician checkups, equipment, medical supplies, and all the resources a family would need to keep their loved one safe.
Routine home care isn't the best choice for many families with small children or several other life obligations. While care and support are available on-call 24/7, a primary caregiver will still need to be available to help their loved one through day-to-day functions and monitor their health. RHC is also available for loved ones in assisted-living facilities or nursing homes, not just private residences.
Continuous Home Care
Continuous Home Care is another option in which a loved one remains at home during their care, though this option is typically not available unless necessary. Continuous care is an option for loved ones who are already receiving RHC and are now in crisis. This means that a medical emergency has triggered the need for urgent, round-the-clock intensive care and immediate availability of nursing staff.
By having hospice care team members there to handle equipment, medication, and treatment, family members can now step away from the caregiver role and spend time with their loved one without obligation. It can be difficult for family members who have been in the caregiver position for a long time to relinquish responsibility during continuous home care, but this is an opportunity to enjoy spending time together.
Respite Care
Even during non-emergency situations, there are opportunities for caregivers to take a step back for a short time and take care of other obligations, relax, and allow a hospice care team to meet their loved one's needs. Respite care usually involves taking your loved one to the hospice care facility for up to five days, where team members will fill the roles you would during home care.
This break can help a caregiver replenish their mental, emotional, and physical health so that they can maintain a positive caregiving relationship and continue to enjoy time with their loved one without un-addressed stress weighing on their shoulders.
Inpatient Hospice Care
Inpatient hospice care is another option for families whose loved one's condition is rapidly declining or whose condition will not stabilize. Moving out of the home and into the facility is a stress-inducing but necessary choice for loved ones to receive adequate care.
Choosing to move into the facility also keeps the home environment a home, where continuous care or emergency treatment in the home can involve many medical aspects that are difficult for your family.
If your loved one's condition stabilizes and they're ready, the option to return home is available.
Palliative Care vs. Hospice Care
Palliative care is an option you may see when researching hospice care, and it's important to understand the difference between the two as you make decisions as a caregiver. While hospice care aims to treat pain and maintain a higher quality of life for those experiencing this section of their life's journey, palliative care treats pain while still attempting to cure a patient's disease.
If a physician suggests your loved one has extremely low chances of recovery, you and your family will need to weigh the risks and benefits of continuing treatment. Then, you can decide if your priority is attempting recovery or looking for comfort.
Discussing Options With Your Loved Ones
You can often decide the level of hospice care necessary based on your ill loved one's condition, and it's subject to change over time. However, who the primary caregiver is, which home your loved one resides in, and which hospice support systems, like counseling, you want from your hospice care team are all choices you and your loved ones can discuss.
Our team at Soulistic Hospice is happy to help you determine what type of hospice care is right for your loved one. We are devoted to providing end-of-life care that is not only right for their condition but allows them to continue with dignity and comfort. If you are seeking hospice care in Arizona, we have support services available for caregivers, your loved one, and your family. So, you can find strength, work through the pain, and discover moments of joy together.